The Lynton and Lynmouth Cliff Railway is not a railway in the classical sense, but actually an inclined elevator in the form of a water ballast railway. It connects the two towns of Lynton and Lynmouth in the north of the Exmoor in the southern English county of Devon. Lynmouth is the port town on the bristol channel coast and its sister town of Lynton is about 150 metres above the cliffs. In order to create a connection here, an inclined elevator was built in 1890, in which one car drives up and one car goes down. Both carriages are connected by a mountain-side cable. The tank of the car going into the valley is filled with up to 3.2 cubic meters of water from the West Lyn River, more than 1.6 kilometers away, and thus it is heavy enough to pull up the uphill car. Arriving at the bottom, so much water is drained from the arriving car that it is lighter than the car standing at the top of the mountain with a full water tank and so the journey begins in the opposite direction. Both cars carry a brake that can regulate the speed. In the middle of the 263-metre-long route, a dove is arranged so that the two cars can pass each other. On a track gauge of 1,143 meters (3 feet 9 inches), a gradient of 57% is overcome. The line is still largely in its original condition, the last time the rails were replaced in 2006. The whole system is now a listed building, but it is still used for passenger transport between the two places. Up to 40 people can be transported per car and can be driven at short intervals, as required.
Lynton and Lynmouth Cliff Railway homepage with operating hours and fares
And once you here in Lynton: Don't miss to visit the cute "Lynton & Barnstaple Railway"!
BEST OF EXMOOR: Holiday Cottages in Lynton & Lynmouth (Advertisement)
Beautiful self catering cottages on Exmoor close to Lynton & Lynmouth
– even for 2 people – we have found at "
Best of Exmoor
":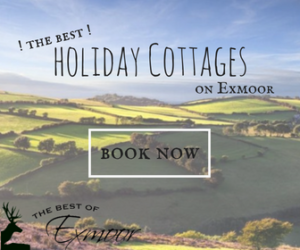 In this content we use affiliate links. This means if you click the link and make a purchase on the landing page, we will earn an affiliate commission at no additional cost to you. That helps us to offset the costs of running this website. Thanks so much for your support!
We are sorry that this post was not useful for you!
Let us improve this post!
Tell us how we can improve this post?